Welcome Back to School!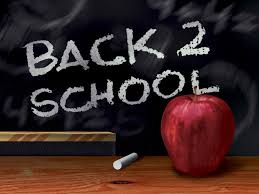 Welcome Back to Burwell Public Schools!  Check this out for helpful information for students, parents & patrons.
------------------------------------
Burwell Jr. High School Supply List
Burwell Elementary School Supply List
----------------------------------------------
School day & Encore Period
In the 2013-14 school year, the school day will begin at 8:04 a.m. with a bell ringing at 8:00 a.m. to alert students that it is time to go to class.  It is imperative that our students get to school on time.  Students who are habitually tardy will be required to make up time after school. Parents, please help in encouraging your children to get to school on time.  The school day will end at 3:21 p.m.
Burwell Jr. Sr. High School will continue to have an Encore Period that begins at 3:25 p.m.  This is a 30-35 minute period at the end of the school day, where all teachers are available to give students extra help.  No sports practices can take place during the Encore Period.  If a student has a grade below a C or has an incomplete, they are required to attend the Encore Period.  Failure to report to a required Encore Period will be an automatic detention.  It is important that we encourage all students to take advantage of the Encore Period.  
-----------------------------------------
Free & Reduced Lunch Application 2013-14
Please click the link above to open and print the Free & Reduced Lunch Application.  It is beneficial to both the school district and our families.
Forms that Require Parent/Guardian Signature for 7-12 Students
There are a number of forms that require a parent/guardian signature.  Many of these forms deal with liability issues and need to be signed early in the school year.  These forms include:
1.  Student Handbook Receipt (handbook)
2.  Permission to drive home over lunch period (handbook)
3.  Medication release This form is only needed when medication is brought to school. (handbook)
4.  Emergency Medical Form 
5.  Internet Use Agreement (handbook)
6.  ADT alert system form
-----------------------------------------
Activity Tickets/Golden Age Passes
Activity Tickets are available for purchase.  Student Activity Tickets price is $15, Adult price is $35, and Family price is $85.  Activity Tickets will allow the ticket holder into all home activities except for Varsity Tournaments, District, or State Activities.  Golden Age Passes are available at no cost for residents of the Burwell Public School District who are 65 or older with proof of age. Please stop by the Burwell Jr. Sr. High School office for all Activity or Golden Age Passes.