Biography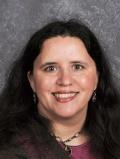 Welcome
This is my 18th year teaching and will be teaching English I, English II, Speech, and Drama. I am the head one-act and speech coach. I serve and the advisor for NFL and FCCLA.
I taught for five years (2001-2006) at Columbus High School where I taught English, Speech and English as a Second Language classes. While at CPS I was the head speech coach and the National Forensics League (NFL) advisor. Here was some of the information from my CPS teacher web page. I did a lot of work with ELL students at CPS and here are some great links for working with these students. Multicultrual Activities For Mainstream Teachers
My educational background is from the University of Nebraska-Lincoln with a B.S. in Education. I have endorsements in Middle School (4-9) in Language Art and Social Science, Engilsh (7-12), K-12 ELL endorsement and a Speech (7-12). I finished my masters from UN-L in the spring of 2008. My thesis was "The Power of Place Conscious Education in Public Speaking."
Honors and awards I have had include:
2005- National American Legion Oratorical Contest National Finals Judge
2007-NFL Diamond Coaching Award
2007-Nebraska Speech Communication and Theater Association Dale E. Black Outstanding Young Teacher of Speech and Theater Award
2007- National ADK Scholarship Winner.
2007-2008 Nebraska DAR Outstanding Junior Member.
2008- I had some of my poetry published and was named a KOLN-KGIN Golden Apple Award Winner. See the story at http://www.kolnkgin.com/goldenapple/headlines/19138794.html
2009-University of Nebraska-Lincoln Young Alumni of the Year
2009-2018 Nebraska FCCLA ACE Advisor
2011-Nebraska American Legion High School Teacher of the Year
2012-Nebraska FCCLA Master Advisor of the Year
2013-Nebraska Daughters of the American Revolution Outstanding Junior and National Society Daughters of the American Revolution Outstanding Junior Member National Runner Up.
2014- 2nd Diamond Coaching Award
2015- VFW District Teacher of the Year
2016-Nebraska VFW Teacher of the Year, DAR National Vice Chair Junior Doll, and Alpha Delta Kappa Membership Award
2017- 3rd Diamond Coaching Award
2018 Nebraska State Daughters of the American Revolution State Vice Regent
Should you need to contact me, feel free to e-mail me at: candace.cain@burwellpublicschools.com
NOW A LITTLE ABOUT ME!!
My family is: Paul Cain Sr., Velma Cain, Rev. Paul J Cain, and Paul's wife Ann.
I grew-up in Burwell and graduated from Burwell High School in 1996. During my youth I was active in 4-H, speech, drama, band, and student government. I was the 1996 State winner of the American Legion Oratorical Contest and advanced to the national contest. I am also a past winner in District speech contest in 4-H, FHA (now FCCLA) and the VFW Vocie of Democracy contest. I work many summers at the Nebraska State 4-H Camp in Halsey, Nebraska and well as Fort Hartsuff near Burwell, NE ,
When I attended college at the University of Nebraska-Lincoln I was a member of Collegiate 4-H, ODK, the Cornhusker Marching Band, ASUN Student Government, College Rebublicans, Neihardt Council, as well a many other groups. I am a past as well as a current member of Cather Circle at UNL.
Besides teaching I enjoy doing crafts, photographs, doing family history, writing, and being in the outdoors in the Sandhills of Nebraska. I love going to Washington D.C. and to other historic places in America.
I am active in many organizations such as the St. John's Lutheran Church, Daughter of the American Revolution, Alpha Delta Kappa, ODK, Cather Circle, NEA, NSEA, a past member of CEA, and the American Legion Auxiliary. I have been active with Cornhusker Girls State through the American Legion Auxiliary. I enjoy judging speech contest for community groups. During the summer I judge county fair small animal shows. I have been twirling batons for over 37 years and love to twirl fire and knife batons.