National Honor Society
Upcoming Activities
7th Grade and New Student Orientation - August 14, 2018 - 10am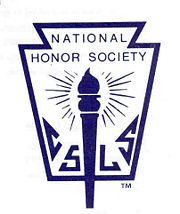 Eligibility
*Sophomore, Junior or Senior
*Must maintain a 3.5 GPA on a 4.0 scale
National Honor Society Information Page
Selection Process
Once the students with the minimum GPA requirement have been identified, they then have the opportunity to fill out information sheets so they can be evaluated on their Leadership, Character and Service. Five faculty members appointed by the principal evaluate the information sheets using a point system. Each student who receives 11 points out of 15 from 3 of the 5 faculty council members is selected for membership.
Leadership is more than just being elected to a class office, it involves other characteristics such as: taking initiative in a group project, being dependable in your responsibilities, exemplifying positive attitudes. So, on the leadership portion of the information sheet, list times when you have assumed leadership responsibilities on committees or in group projects.
Character involves such traits as being able to take criticism willingly, being cheerful and friendly, upholding principles of morality and ethics, and showing courtesy, concern and respect for others.
Service. Candidates should participate in some outside activity, such as 4-H or youth group. Service projects are a requirement for continued membership in NHS.
Maintaining Membership
Member Expectations
Membership in National Honor Society is a Privilege and not a right. Each member is selected on the basis of the ideals of the organization: Scholarship, Leadership, Character and Service. If any member falls below the standards on which he/she was selected, then that member is liable for dismissal. If you are dismissed or you resign, you may never again become a National Honor Society member.
Of the four ideals, the only absolute is Scholarship, and NHS members must maintain at least a 3.4 GPA to remain a member in good standing. Attendance at NHS meetings, carrying out responsibilities and participation in our projects are indicators of the Leadership and Service ideals. Character is more subjective in nature, but a member should let civil laws, school rules and good common sense be the guiding principle.
In most cases, you will receive a written warning and given time to correct the deficiency, but in cases of flagrant violations of school rules or civil laws, you may not receive a warning.
The Faculty Council, which consists of five faculty members appointed by the principal, makes the decision regarding dismissal or other disciplinary measures. If, after investigation, the faculty council believes that dismissal may be in order, the advisor will notify the student and schedule a hearing.
In the case of a dismissal, the advisor will send written notice of the decision to the member, his/her parents and the principal. The member must return the NHS pin, membership card and membership certificate to the chapter advisor.
The dismissed member may still appeal (to the high school principal) under the rules that govern disciplinary appeals for Burwell Jr Sr High School.
Article X of the NHS National Constitution and Article III, Sections 5 and 6 of the NHS Rodeo Chapter By-Laws relate to dismissal of members and copies will be made available to any member who requests it.
Activities
* School wide recycling project - We recycle approximately 150 pounds of paper goods each week.
* 7th Grade and New Student mentoring Program - We assign mentors to new students so they have a person to help them out and answer questions
* Soup Supper Fundraiser - funds go to providing a Mentoring Welcome Party for new students and for the Induction Ceremony
* Spring Induction Ceremony for new NHS members